Both of the fuel gauges in the Hurricane and Spitfire read true for v2.11.
For the Stuka, ME110C, and ME109E fuel gauges to read true, you must use my Cockpits_v3 mod.
I spent a long... time painting the gauge faces and calibrating the gauge factors for true fuel gauge indications.
You might have noticed the Info Tag on top of the Spitfire fuel gauge.
This is my last paint of it, and all graduations on all of my gauges read true, not just the full and empty marks.
Note 1. The gauge sits at the far right of the cockpit panel, so when viewed from center head position, you get a realistic parallax view of the pointer
(above the gauge face) and the graduations (below the pointer) which is an erroneous view of the gauge.
So to read it most accurately, lean over right to eliminate what us Instrument Mechanics call parallax view of the pointer to face.
Note 2. Pay no attention to the tail on ground graduations. Beyond the scope of the sim to do that up correct, pardon us.
Note 3. Here is a little sketch I made of the Spitfire and Emil's cruise ferry range. Both tested flying 80% power, 8,000 feet, with the fullest coarse prop pitch allowed for flight,
straight true and level trimmed, flying manually all the way.
The ME109 is the blue line. The black (top tank) and red (bottom tank) lines are the Spitfire. Both starting off from Le Havre. The Emil test was in Campaign.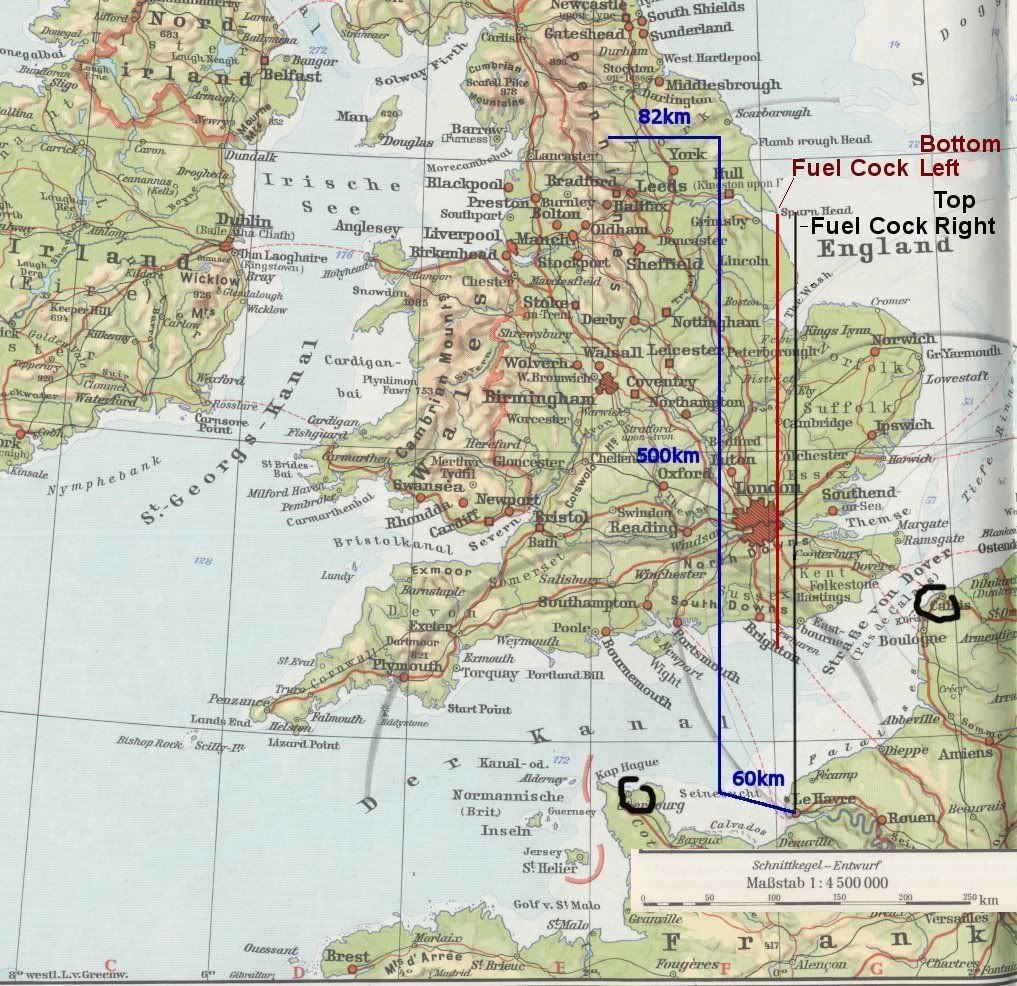 _________________
"Toto! I don't think we are in Kansas anymore!"
Dorothy, OZ
"sniff.. sniff.. Snort! ARF! GGRRRR! ARF! (Tod der stinkenden republikanischen Partei, diesem ignoranten religiösen Monstrum.)"
Toto